Rocking a bold lip can be a powerful statement that elevates your overall look. Here are some tips to help you confidently wear and rock bold lipstick:
Find the right shade
Experiment with different shades to find the bold lipstick that compliments your skin tone and enhances your features. Consider your undertones and try shades that suit warm or cool tones accordingly. Reds, berries, deep plums, and bright pinks are popular choices for a bold lip but feel free to explore other shades that speak to your style.
Prep your lips
Ensure your lips are smooth and well-hydrated before applying bold lipstick. Exfoliate your lips gently with a lip scrub or a soft toothbrush to remove any dry or flaky skin. Follow up with a moisturizing lip balm to hydrate and create a smooth canvas for application.
Use a lip liner
Lip liner is a game-changer when rocking a bold lip. Choose a lip liner that matches or is slightly darker than your lipstick shade. Outline your lips carefully to define the shape and prevent the color from bleeding or feathering. You can also fill in your lips with the lip liner to create a base that helps the lipstick stay in place.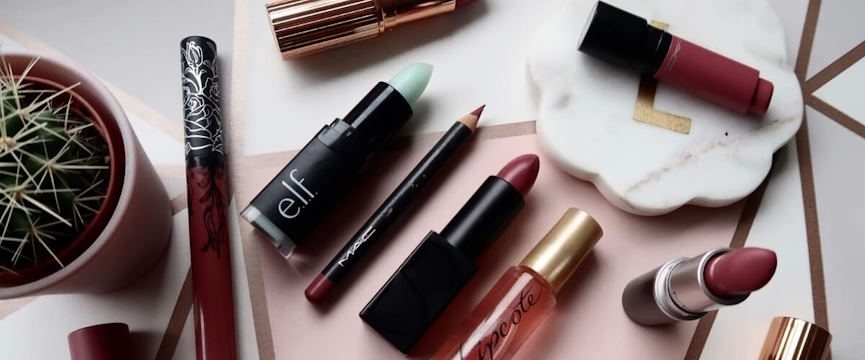 Apply with precision
To ensure a clean and precise application, use a lip brush or apply the lipstick directly from the bullet. Start from the center of your lips and carefully fill in the color, following the natural contours of your lips. Build the color gradually, adjusting the intensity to your preference.
Blot and set
After applying the lipstick, blot your lips gently with a tissue to remove any excess product and prevent smudging. For long-lasting wear, dust a translucent powder lightly over the lips or use a setting spray specifically designed for the lips. It helps lock in the color and increase its longevity.
Keep the rest of your makeup balanced
When wearing a bold lip, it's best to keep it understated and balanced. Opt for neutral or subtle eye makeup and a soft blush to let your lips take center stage. It allows the bold lip to be the focal point of your look without overwhelming your overall appearance.
Own it with confidence
The key to rocking a bold lip is confidence. Embrace the boldness and own your look. Stand tall, smile, and know that you're making a statement. When you feel confident, it radiates through your entire presence.
Touch up throughout the day
Bold lipstick can require occasional touch-ups, especially after eating or drinking. Carry your lipstick and a small mirror for quick touch-ups throughout the day to keep your bold lip looking fresh and vibrant.
Remember, wearing a bold lip is about expressing your style and embracing your uniqueness. Be fearless and have fun experimenting with different shades and finishes until you find the bold lipstick that makes you feel like a confident and empowered version of yourself.